Wanless Park Spring Fair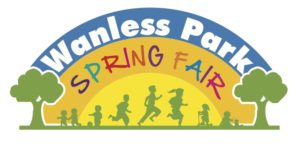 April 2, 2020 Update —
The WPSF Committee met last week and confirmed that the 2020 Spring Fair would be cancelled due to the on-going COVID-19 crisis. This was confirmed this week with the City's decision to cancel all permits for outdoor event through the end of June.
While it is disappointing, it is the right decision given the threat to public health and the need to maintain physical distancing during this outbreak.
The BWRA and all the committee members look forward to putting on the Wanless Park Spring Fair again in 2021!
Stay safe.
---
Highlights from the 2019 Wanless Park Spring Fair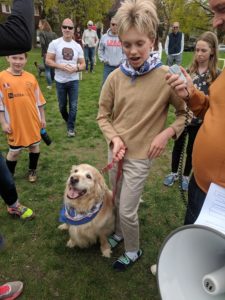 Windsor and Andy: Winners of dog that most resemble its owner category (more dog photos below).
The beer was cold, the wine was flowing (sold out), the weather held and the Wanless Park Spring Fair was the best attended yet.
Big thank you to our sponsors and donors to the blind silent auctions. Please remember to click on our sponsors page and blind silent auction page and to patronize their stores or services. We could not exist without their ongoing participation and support.
Photos, Photos, and More Photos (please email any and all photo you may have taken to info@BWRA.ca)
Big thank you to Ela Pagacz from Wanless Photography for her amazing photos. Ela was heartbroken to have triple booked May 11th. She was nonetheless able to give us from 10 am to 11:30 am. Ela's photos are viewable here.
More photos (not taken by the amazing Ela Pagacz) are found here. Lots of dog photos, Tandem recital photos, Races, Egg toss, Pie Eating with Mayor Tory presiding on the megaphone, Mac&Cheeese judges with Ed Swerhone (LPAA board and WPSF sponsor), Cheryl Arielli (Sunwing/Sell Off Vacation sponsor), Mayor Tory,  Ken the Friendly Butcher, Winner – Heather Lowe, Maddie, and Michael Sheahan,  and lots and lots more photos.
The 50:50 draw was won by Janice Barnett. The winning # was 5424247. Photo of the happy recipient of $220 is found here. (Janice is on the right).
Thank you to Cheri McCann Real Estate for their sponsorship of the Wellness Tent.
Thank you to Sherille Layton for her sponsorship of the Inflatables
Thank you to Patrice Gale for her sponsorship of the beer garden
Thank you to the LPAA for their sponsorship of the races and crazy lawn games.
Thank you to St. Leonards for lending us their tables and chairs
Thank you to Lawrence Park Animal Hospital for the 1st annual Dog Parade and Skills Competition (over 50 entrants and their owners)
Thank you to Belinda Lelli team for providing the free ice cream truck that served hundreds and hundred of cones.
Thank you to Mary Dempster for sponsoring the egg toss and judging with Jaye Robinson. 
Thank you to everyone for their potluck contributions of about 50 delicious dishes. It was great to share a meal with our neighbours in the park. What a hoot.
Other sponsors included
Sunwing/Sell Off and their mascots were a favourite for photo taking. Thank you.
Glitter tattoos courtesy of Country Dental (also 1 of the dog show judges).
Cotton candy courtesy of Suzanne Stephens and the Kennedy Team
Fastest Pitch activity courtesy of True North Sports Camps
Live music featuring Kevin Burgess and the YLF's, Tyler Ellis and the Eddy Line and Bywater Call
Blind silent auction was the best ever in terms of donations and bidding. All items should have been delivered by now.

If you were notified that you won and did not yet take delivery, please email us at info@BWRA.ca
Please remember to thank our sponsor and donors ideally by patronizing their stores and using their services.

Thank you to the Bake Sale Captain, Mary Muir, and her band of merry bakers who were both prolific and delicious in their efforts
Lost and Found: (Please email us at info@BWRA.ca if you spot one of your items below.
Straw Fedora with glimmer (small Old Navy)
Kids sunglasses (pink) with RONA hand printed on left arm
Cake Tupperware (white) with yellow lid and handle. Sticky that said: "Cherry pie, Paul."
Serving trays: from Ikea, about 18″x18″. One in light green with white circles, one in black and white forming Christmas flower and red deer on lower left
Cookie sheet
Cutlery in baggie: fork, knife, larger spoon
Cutlery: Loose, non-matching 3 forks, 2 knives
Serving spoon (larger)
Slotted spoon
Wooden spoon
Bottom of a salad spinner (?) used as a salad bowl
Missing WPSF lawn signs – RSVP: If anyone has a lawn sign (possibly at the side of the house or whatever), please send us an email to info@BWRA.ca. We are missing a handful.  And we will scoot over to pick any and all missing signs (they cost about $10 each and we reuse them every year by putting a sticker on the date). \
On behalf of the volunteers, the Captains, thank you again to our sponsors, donors, and you for attending and making this year's Wanless Park Spring Fair the best ever (so far).
Michael and Dan, Co-Chairs
May 18, 2019
---
This year's Wanless Park Spring Fair is Saturday, May 11, 2019.
Activities start at 10 am and will continue until the end of our pot luck dinner in the park sometime after 7pm!
Come join in the fun and support the BWRA by bidding in the blind silent auction or by making a donation.
Check out the full schedule of "can't miss" events:
And more…
Glitter tattoos courtesy of Country Dental
Cotton candy courtesy of Suzanne Stephens and the Kennedy Team
Fastest Pitch activity courtesy of True North Sports Camps
Live music featuring Kevin Burgess and the YLF's, Tyler Ellis and the Eddy Line and Bywater Call
Blind silent auction in support of the BWRA
Bake sale in support of the BWRA. Contributions contact Mary Muir